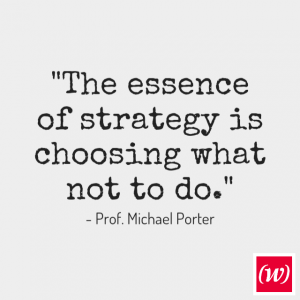 By Julie Wright —President
Twitter: @juliewright
---
If any good comes from Anthony Scaramucci's 10 days as White House director of communications, I hope it's the realization that being a professional communicator is no cakewalk and, truly, best left to people who have invested their careers in the profession.
Just as it's easy to quarterback an NFL team from behind your TV remote, it's easy to watch a White House press briefing and offer your take on messaging, delivery or timing.
The Mooch was more than a modern-day Icarus who flew too close to the sun – or some other fiery orange orb. He was someone who underestimated how hard good, strategic communication is and how costly and unforgiving bad communication is.
I've said it before: there are no shortcuts to PR glory.
The following is a list of cardinal communications sins Scaramucci committed in his short-lived career in strategic communications.
1. Having no communications strategy.
What was the strategy?
Based on the sound bites in the first few days, it was hard to tell. Guess what? You can't communicate successfully without a solid communication strategy that has the buy-in of your team and client or boss. Scaramucci did submit a communications plan, shared by CNN here (thanks to my former boss, Della Smith, for sharing this link), but it is more of a lengthy memo full of platitudes and commandments that are far easier to promise than they are to deliver. And, again, there's no overarching strategy. It's a tactical plan and glorified to-do list for Scaramucci and hardly something a professional communicator would recognize.
The strategy should be based on research and data to support clear and measurable objectives. Ultimately, the strategy guides your decisions and ensures that you're speaking via the right channels with the right messages to reach the right audiences.
The Mooch opened his kimono to the New Yorker. Not exactly the publication read by the President's base. His approach showed he was communicating to an audience of one and, to be fair, his communications plan did say that "Comms is a Customer Service Operation—POTUS is the Number One Customer." However, making the boss happy is not a viable communications strategy.
2. Asking questions without knowing the answers
Professional communicators know that you do not ask questions to which you don't know the answers. You do your research.
Why? Because credibility is as perishable as a bowl of fresh guacamole at the company picnic.
Professional communicators will often put a five- or 10-minute time delay on their email outbox. They'll read and re-read an important Tweet before they push it out.
They do this in the same way that they wouldn't walk into a press briefing without knowing exactly what questions to expect and preparing for them, like his former boss recently did in a press briefing where he was asked about Hezbollah.
So, that's why a professional communicator would not toss out a Tweet like Scaramucci did accusing the White House chief of staff of leaking Scaramucci's financial disclosure statement. That document was requested by a reporter and it was released 30 days after Scaramucci had been appointed to the Import-Export Bank as its chief strategy officer in late June.
Professional communicators base their communications on research and data. These elements inform your strategy so that by the time you're actually communicating, it's on a solid platform that you can feel confident will produce the desired results. You don't wing it.
3. Not realizing that nothing is off the record.
OK, first, was The New Yorker interview off the record at all? The reporter says Scaramucci never requested that it be, but later Scaramucci implied he thought it was.
Regardless, the first and last rule of expert media training is that nothing is off the record. The generally accepted rule about going off the record is that it's up to the source to say in advance that what they're about to say is off the record. You cannot do it after the fact.
A best rule of thumb is that if you don't want to be quoted saying something, don't say it.
It's not a tough rule to learn, but it sure as heck is a tough lesson to learn when you get it wrong.
4. No key messages
What are key messages?
They're your mantra, your sermon and your three-point shot all wrapped up in one. You figure out what points you're trying to make in media interviews before you participate in media interviews.
If I had to retroactively decipher Scaramucci's key messages based on his interviews and Tweets, they would be: "don't trust Reince Priebus;" "do trust Sarah Huckabee Sanders and expect her to get 'better;" "Scaramucci loves the President;" and "Scaramucci has no control over the President's / White House's communications agenda."
After all, amid the White House communications team changes, the President Tweeted that the military would no longer allow transgender men and women to serve. A total surprise to all. And again, no strategy, no messaging and no research or planning to understand the implications.
Scaramucci did mention in his communications plan that "Every Comms message needs to have a nexus to Make America Great Again and jobs." But if he made either of those points in his New Yorker interview, I certainly missed them, and his many other expletives, insults and accusations would have overshadowed any of them.
5. Not knowing who his friends were before making enemies.
Coming into a new position, it is not unheard of to get pressure from a new boss to clean house for them. If the boss wants to get stuff done and his or her team is struggling to advance their agenda, they will look to find new people capable of carrying out their vision.
But when you become the boss's enforcer, the first thing you do should not be to put everyone on notice and instill fear and anxiety. That just takes a bad situation and makes it worse. Particularly when your communications plan says priority #1 is improving the culture, as Scaramucci's did.
You start by building your alliances so that by the time the tough decisions must be made, you've created alignment with the people who are staying rather than fear and mistrust.
In other words, you figure out who your friends are first. Even if the President of the United States is your friend, and loves you, you need friends in the trenches with you.
It's a tough job, being a communicator. It's highly visible. It's prone to second guessing. And the stakes are often high while involving judgment calls. That's why experience counts so very much. As does having a strategy, basing it on solid information, having clear messages to guide your communications, staying away from off-the-cuff comments to the media, and surrounding yourself with people you can trust and with whom you can confidently go into battle.
Get one of these five things wrong and you'll probably lose a little sleep or have some tough conversations with your boss. But get all five wrong and you're out of a job and an international punchline.