By Kara DeMent, Communications Coordinator
---
This month marks my first year at (W)right On Communications and my first "full" year (technically) at a PR agency, and boy have I learned a lot.
Like most new professionals, what I thought PR was in college is nothing like what it is in real life. There's way more to it than campaigns and PR plans, like growing relationships with your clients and understanding their goals and objectives; knowing the media inside and out; staying on top of trends—the list goes on and on. Naturally, I've learned more than a thing or two about PR over the past year, but here are what I consider to be the three most important lessons learned:
1. Be a sponge
Absorb information, take notes and ask questions. Every meeting, workshop or phone call is an opportunity to learn from your peers and clients. At WOC we're expected to engage wholeheartedly in office discussions and we inspire one another to get out and join a workshop, webinar or become a member of a professional organization. This helps broaden our knowledge of PR and the industries we're passionate about.
2. Finding the right media contact is cake
Wrong. At WOC we're always pitching our client's accomplishments, but in order to secure that TV interview or front page story, you have to get it in front of the right person. Do your research for the right media contact—learn about the journalist you're pitching, know their past writing history and show that you're paying attention to what they're covering.
3. Become an expert in the practice areas
This is something you learn quickly working at a PR agency. At WOC, we learn what our client partners' expectations are, their main objectives and the best way to support them – what's specific to the client. But we also learn the ins and outs of their industry and how we can help best achieve their goals. What works for a hospitality client might not work for an energy and tech client. At WOC we're all about getting stuff done and achieving wins for our clients and that's accomplished by fully immersing ourselves in the industries we support.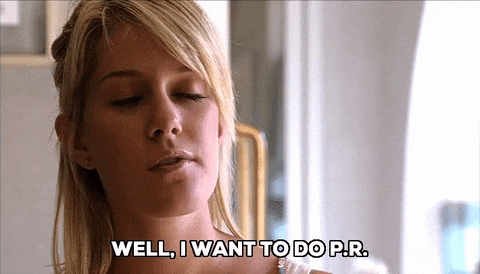 Although I'm still fresh in my PR career, I'm continually learning something new every day at (W)right On, and one thing I can take away from what I learned in college and through sports communications internships is how to learn and research, and you can see from my top three list—it's all about continuing to learn and grow in the industry.
If you're looking to explore the PR industry or need expert advice, call or email our team of PR pros. We'd be happy to speak at your next meeting or work seminar, (858) 755-5411 or info@wrightoncomm.com.